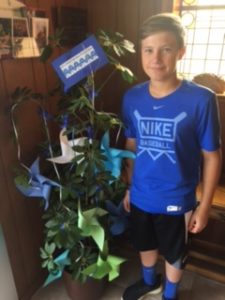 Promotion could be as simple as asking your students or staff to wear blue ribbons during the month of April, create a Blue Ribbon Tree whether inside or out, share information about our Nurturing Parenting programs with your PTA or parents, schedule a Kids on the Block performance (elementary),   share our Positive Parenting tips calendar with your  families, or have your 4th through 8th graders participate in our annual Children's Art Contest.  The winning art entry will have their submission recreated as a poster and placed inside all TANK and Metro buses.
Download our Blue Ribbon Campaign Guide which includes resources for:
Blue Ribbon Tree and Pinwheel displays
PTO host a Stewards of Children Training
Children's Art Contest (open to 4th-8th grades)
2020 Positive Parenting Tips Calendar
Pinwheels for Prevention craft
Download our Resource guide for educators and school personnel to learn what every teacher needs to know about child abuse.
Check out all of our Blue Ribbon Campaign events and activities
Here is a listing of Family Nurturing Center's staff suggested readings:
Elementary Age:
My Body Belongs to Me by Jill Starishevsky
Hands Are Not for Hitting by Martine Agassi
How Full is Your Bucket?  For Kids by Tom Rath
I Like Myself by Karen Beaumont
Lucy and the Bully by Claire Alexander
Fill a bucket: A Guide to Daily Happiness for the Young Child by Carol McCloud and Katherine Martin, M.A.
Middle/High School Age:
A Family That Fights by Sharon Chesler Bernstein
The Sexual Trauma Workbook for Teen Girls: A Guide to Recovery from Sexual Assault and Abuse by Raychelle Cassada Lohmann  and Sheela Raja
How to Take the Grrr Out of Anger by Elizabeth Verdick and Marjorie Visovskis
Parents:
Kids are Worth It by Barbara Coloroso and Dr. Stephen Bavolek
The Happiest Baby on the Block by Dr. Harvey Karp
Velveteen Principles by Toni Raiten-D'Antonio
Nurturing Skills for Families: Parent Handbook by Stephen J. Bavolek