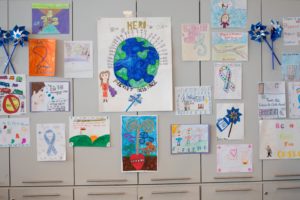 EVERY CHILD DESERVES A GREAT CHILDHOOD
This annual contest is open up to any child in 4th through 8th grades.  Entries can be made using any medium up to poster size.  The winning entry will be reproduced as an advertisement and displayed inside TANK buses during the entire month of April. A pizza party for their school classroom, scout group, church class, or youth club.  All entries must include a signed Parent/Guardian Consent Form available at www.familynurture.org.
The winner and their family will be asked to attend the Blue Ribbon Ceremony to kick off Child Abuse Prevention Month to be recognized for their art.
Open to all children in grades 4-8
Children should create a picture related to awareness of child abuse prevention and//or positive parenting
Pictures may be on paper size (8 ½ x 11) up to standard poster size (24 x 36) HORIZONTAL
Picture should represent the slogan: Every Child Deserves A Great Childhood
Entries may be completed by an individual child or a group of children (only one prize will be awarded regardless of size of group)
All submissions must have completed Consent Form signed by parent/legal guardian
Entries should be submitted by March 13, 2020, at 4:00 p.m. to Family Nurturing Center, 5 Spiral Drive, Florence, KY 41042.
Check out all of our Blue Ribbon Campaign events and activities