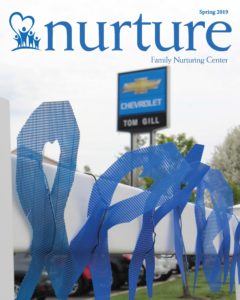 Dear Friends,
After what seemed like an endless winter, dreary days and false starts, it appears that spring is finally here.  It's a welcome gift – I love seeing  the evidence  of new life all around.
At Family Nurturing Center, green grass and spring blooms aren't the only new things in our world.  Our Spring 2019  newsletter is full of new and exciting signs of life in our work to end the cycle of child abuse.   Inside you can read about our new Florence office, providing a larger and more welcoming space for children and families; new and innovative holistic programs that complement our tried and true services for greater  impact; our new board members who give their time, talent and treasure to further our mission,  and even a new location for the Blue Ribbon Bash, this year hosted at  St. Elizabeth Training and Education Center.
There's a lot that is new, but there's a one thing that isn't – our unending vision for safe children, thriving families, and nurturing communities.  Old friends, evidence based programs and seasoned staff are all part of our ongoing commitment to making the world a better place.
Learn about all the ways, old and new, that we are working to ensure great futures for children and families.  Visit our new website , or our new office, to find out more.  Perhaps the next new thing for Family Nurturing Center is …you!
Warmly,