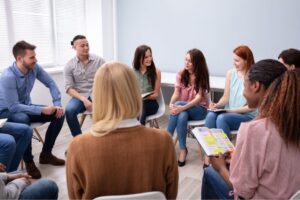 Our Education Services include group-based education programs focusing on community safety and providing the space to learn and grow.
Programs that are offered to community are below. Click on the title of each program to learn more.
Family Nurturing Center is pleased to offer the Stewards of Children, a revolutionary prevention program designed to teach adults to prevent, recognize and react responsibly to child sexual abuse ,in partnership with Darkness to Light. It uses real people and real stories to show you how to protect children.
Kids on the Block provides school based prevention services about the problem of child abuse. The program equips children with the skills to recognize and report abuse and bullying. Both the Child Abuse Prevention and Bullying and School Safety performances target school age children, Kindergarten through 5th grade.
Nurturing Parent Facilitator Training
Nurturing Parenting Programs for Parents & Their Children Special Needs and Health Concerns (SNHC)
Nurturing Father's Program