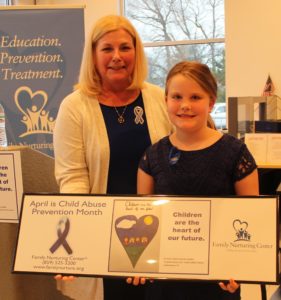 Family Nurturing Center was once again honored to renew our partnership with Tom Gill Chevrolet who once again opened up their dealership to host the Blue Ribbon Ceremony to kick off April as Child Abuse Prevention Month in Northern Kentucky.
Photos from the ceremony are available for free download.  Find yourself and then share with your social media circle of friends who like you, care about protecting children.
After the ceremony, guests tied blue ribbons along the white picket fence facing the interstate to serve as a visual reminder of child victims of abuse and neglect.
Florence Mayor Diane Whalen recognized Brooke Saalfeld as the winner of our 2019 Children's Art Contest.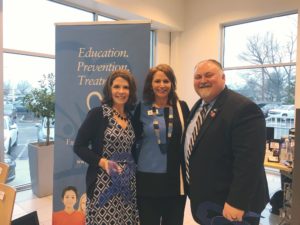 Family Nurturing Center proudly welcomed Chris and Alicia Johnson, Special Advisors to the Kentucky Governor and First Lady for the Office of Faith and Community Based Initiatives as our featured speakers.  The Johnson's spoke on the importance of supporting foster parents and the role that every adult must play to protect children from abuse.
Check out all of our Blue Ribbon Campaign events and activities